NYC Scholars Housing and Student Life
Your home away from home
As an NYC Scholars Program student, you'll live with fellow students in St. George Towers in the heart of safe, elegant Brooklyn Heights. Once the largest hotel in New York, St. George Towers is now a deluxe residence for college students and interns, with staff from Adelphi's Office of Residential Life and Housing on site. It's only one subway stop away from Manhattan and a short ride to Adelphi's Manhattan Center on Varick Street in SoHo.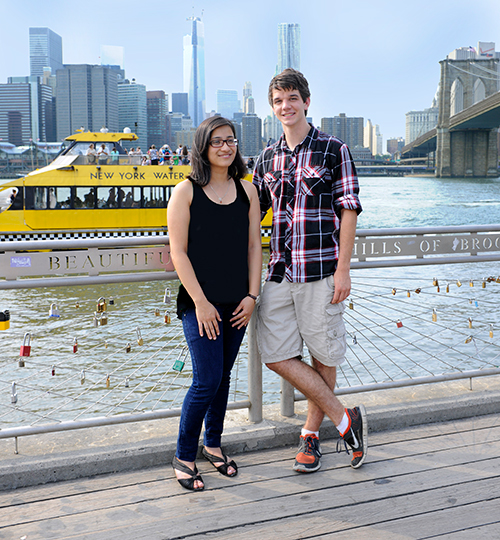 You'll enjoy fantastic amenities at St. George Towers, including:
Fitness center
Wireless internet
Public iPads
Flat-screen TVs and premium cable channels
Screening room
Unlimited national phone service
Laundry facilities in building
Study rooms
Private bathrooms
Air conditioning, heat and basic utilities
Standard student furniture
Communal kitchen
Apartment-style refrigerator
Vending machines
Microwaves
ATM in building
Mail and package services
24-hour main-entry security desk and surveillance
Key-card entry to building and room
Professional live-in staff
---
Co-Curricular Activities
In addition to the vibrant social life at St. George Towers, you'll also be able to take advantage of activities offered by the NYC Scholars Program, including cultural excursions, volunteer days, meetings with alumni and group meals.