There's plenty to do. Enjoy yourself.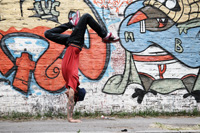 It is impossible not to find something interesting to do and see in Manhattan. The most renowned of New York City's five boroughs, Manhattan offers the best of everything—Broadway shows, concerts, sporting events, museums, shops, restaurants, parks, parades, cultural landmarks and one-of-a-kind neighborhoods.
On a trip to Manhattan, you could:
head to Central Park to catch the finish of the New York City Marathon, or pack a picnic basket for lunch on the grass at Strawberry Fields;
ring in the New Year by watching the famous ball drop in Times Square;
catch a Tony Award-winning Broadway show or your favorite NY-based late-night TV talk shows;
see the Knicks take the court or the Rangers hit the ice at historic Madison Square Garden;
try your hand at any number of sports at Chelsea Piers;
get in the holiday spirit at the tree-lighting ceremony at Rockefeller Center;
indulge your love of the arts at Lincoln Center or Carnegie Hall;
visit the best-known address in the financial world: Wall Street;
spend a leisurely day walking through a unique neighborhood such as Little Italy, Chinatown, Greenwich Village or Harlem;
experience the great works of art you've discussed in class on a trip to Museum Mile along Fifth Avenue; or
take a tour of the building that seeks to unite the world, the United Nations.
Those are but a few of the many options available to you in New York, New York. The best way to always know what's happening in the world's most exciting city is to visit the official guide to New York City.