NYC Scholars Curriculum and Courses
Design your New York City experience with Adelphi.
As a student in the NYC Scholars Program, you can take 15 credits during your semester in NYC. These courses will meet General Education requirements (arts, humanities, social sciences and sciences).
Spring 2018 Courses
Mondays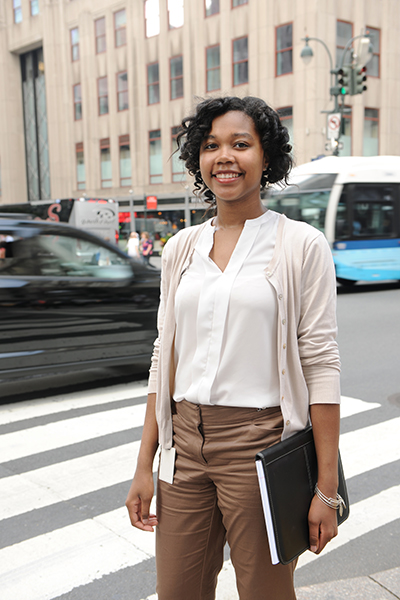 Inside the Largest School System in the United States
2:00 p.m.–4:30 p.m. Tracy Hogan, Education
Distribution Requirement: SS (proposed) Course Number: TBD
Do protests, union rallies, marches, and political infighting sound familiar from today's news? Join us as we look closer at these headlines, spanning colonial times to present day, that shape the largest school system in the United States. The course will examine the complex political, financial, and philosophical debates among unions, religious organizations, politicians, lawyers and families to better understand the current educational system across the five boroughs. We will travel to  public, private and charter schools to better understand the variety of approaches to teaching and learning.  In addition, we will interview education leaders and teachers to better understand how public policy initiatives shaped the course of history of this most amazing and diverse educational system.
Tuesdays
Cultural Anthropology/Culture and the City
6:00 p.m.–8:30 p.m. Hanna Kim, Anthropology
Distribution Requirement: SS, G  Course Number: 0103-111
Celebrate the peoples and cultures of New York City while disrupting your everyday assumptions about similarities and differences.  Without a plane ticket, but with an unlimited Metrocard, this course brings students from the classroom to the neighbourhoods, local sites, and new and old institutions of New York City.  Students will have opportunities to experience first-hand the subculture of "dumpster divers," contemplate the multiple uses of new monumental architectural spaces such as the Oculus at World Trade Center, and perhaps try some new cuisine such as Central Asian Bukharan comfort food in the Diamond District.  Through a combination of classroom discussions and mini-field work projects that allow for real-time observation and participation, students will acquire the vocabulary and methods for analysing culture and behaviour and, correspondingly, develop a deeper understanding for one of the world's global cities.
---
Italian 111, Level 1 Course
3:05 p.m.–5:35 p.m.Jonathan Hiller, Languages Literatures and Cultures
Distribution Requirement: G Course Number: 0138-111
This course is designed to provide students with a sound basis for communicating effectively, confidently and accurately in Italian. The course will build students' abilities in listening, speaking, reading and writing through exposure to authentic communicative situations and task-based activities. This will help prepare students to excel linguistically in contexts and environments they will find in Italy and Switzerland. The grammatical structures and vocabulary they will learn during the class will thus be within a "real word" setting, increasing functional skills. Emphasis will also be placed on Italian and Swiss-Italian culture with appropriate comparisons to American culture, and this cultural awareness will be tested on all exams.
Italian 1 will cover the Preliminary Chapter and Chapters 1-6 of our textbook. In order to build communicative competence, class will be conducted entirely in Italian.
To build intercultural competency and take advantage of the many Italian cultural opportunities in New York City, we will be making excursions every week. These activities will give students exposure to a variety of artistic, culinary and other cultural experiences. Please see weekly class schedule for further details. Attendance at these events is mandatory: Eataly Downtown,Center for Modern Italian Art, Italian-American Museum, Little Italy,Metropolitan Opera, ll Trovato re by Verdi Metropolitan Opera House, Frick Collection, Metropolitan Museum of Art,  NYU Casa Italiana, Cooking Class at Eataly Flatiron, Guggenheim Museum, Morgan Library and Garibaldi-Meucci Museum.
Wednesdays
Disease in New York City: Historical Perspectives
3:05 p.m.–5:35 p.m. Helen Lemay, History
Distribution Requirement: SS/H (proposed)  Course Number: 0136-290
This course will provide an historical background to the medical and social ills facing New York City today.  Our examination of the past will be supplemented by regular visits to agencies addressing these problems, as well as talks by guests who deal with them, both from a professional and personal point of view.  Some of the topics we will examine are:  What is a disease? What is an Epidemic?  What impact does homelessness have on a person's mental and physical health?  How does the urban environment affect the city population?
---
Social Change
6:00 p.m.–8:30 p.m. Melanie Bush, Sociology
Distribution Requirements/Learning Goals: SS, L, G Course Number: 0170-380
Historically, New York City has been a center for social movement activism related to labor, the economy, housing, healthcare and struggles for justice by marginalized and subordinated communities of all sorts (racial, gendered, religious, immigrant, etc.)  This course will provide an opportunity to learn about that history, connect students with grassroots organizations involved in social change today and participate in public events related to contemporary social issues. General Education Learning Goals: Emphasis will be placed on developing Critical and Integrative Thinking Skills, an understanding of the meaning of Global Citizenship and Information Literacy. Distribution Requirements: Social Science
Fridays
Open for leadership development, guest speakers and cultural excursions.